Morpheus8 Skin Tightening
While the face often takes center stage, we tend to overlook the importance of a youthful and well-toned body until noticeable signs of aging start to appear. Many people focus solely on caring for their facial skin, unintentionally neglecting the body's needs. However, our body plays a significant role in our overall appearance, and maintaining its vitality is equally important.
With our comprehensive range of advanced body treatments, including EvolveX and Morpheus8, we provide the perfect solution for those looking to regain a youthful and sculpted body that harmonizes with their facial glow. It's time to expand your skincare routine beyond the face and give your body the attention it deserves.
Get Started
Morpheus8 Skin Tightening in Nanaimo
Morpheus8 body treatment is an excellent option for individuals who are experiencing age- and lifestyle-related issues affecting their skin's appearance and tightness. It is particularly beneficial for those who have:
Sagging skin
If you have loose or sagging skin on areas such as the abdomen, thighs, buttocks, arms, or knees, Morpheus8 can help tighten and firm the skin, improving its overall appearance.
Cellulite
Morpheus8 can effectively target cellulite. By stimulating collagen and elastin production and improving skin texture, it can reduce the appearance of cellulite, giving you smoother and more even skin.
Wrinkles and fine lines
Morpheus8 can help diminish the appearance of these signs of aging, resulting in smoother and more youthful-looking skin.
Loss of skin elasticity and firmness
By promoting collagen and elastin production, Morpheus8 helps restore the natural firmness and tightness of the skin.
Before & After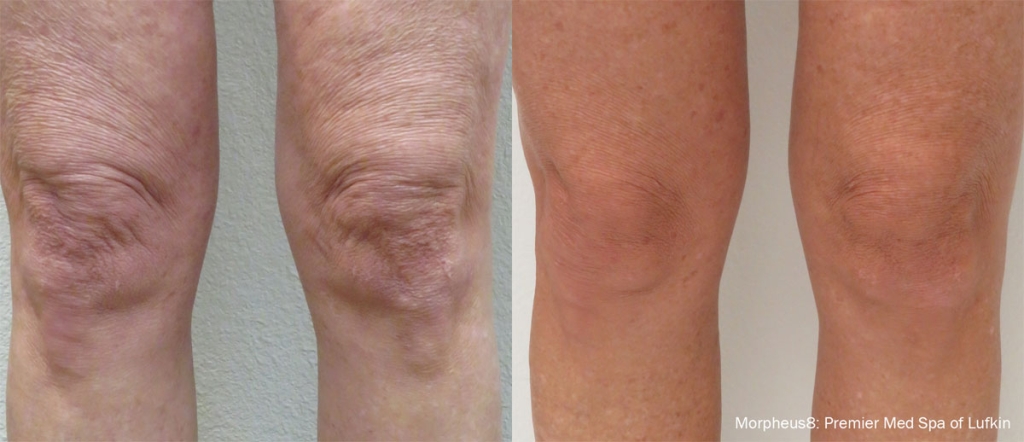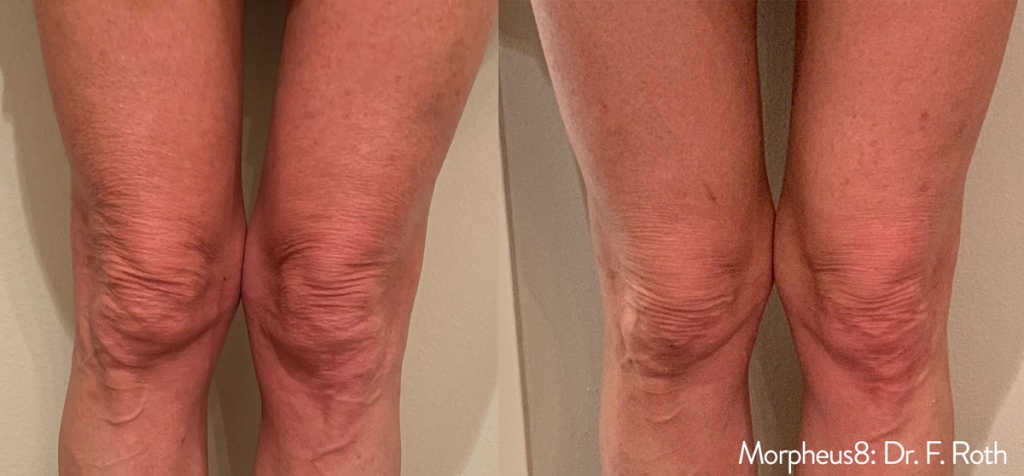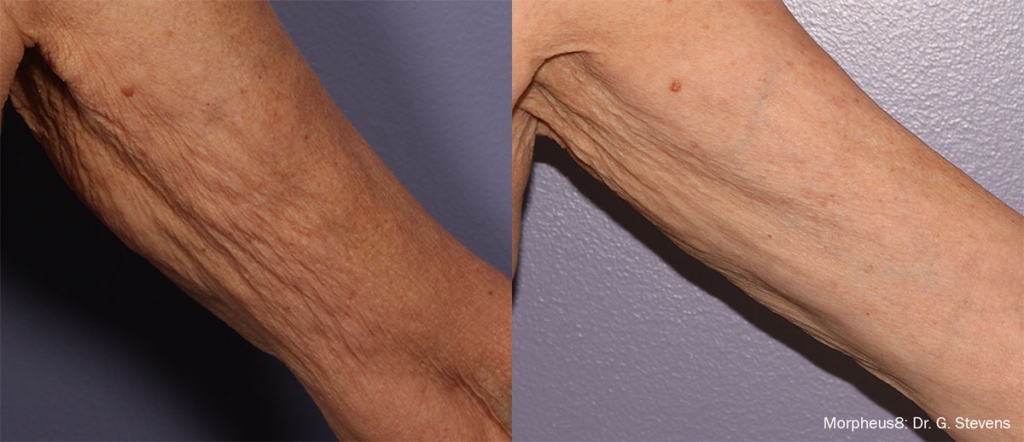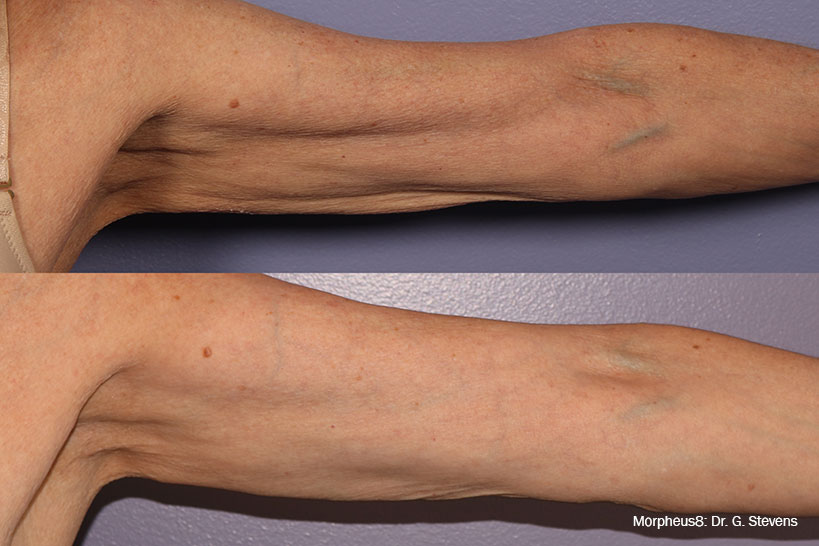 Here at Synergy, we pride ourselves on offering the latest, cutting-edge treatments to our patients. When it comes to Morpheus8, we go above and beyond by offering a comprehensive approach that combines various modalities for maximum effectiveness.
Our expert team consists of highly trained and experienced professionals who specialize in non-surgical aesthetic treatments. Our aestheticians Jillian and Brianna stay up-to-date with the latest advancements in the field to ensure that you receive the best care possible. From the initial consultation to the treatment itself, our team will guide you through every step of the process, addressing your concerns and customizing the treatment plan to meet your unique needs.
Eva Longoria's talks about her experience with Morpheus8 and EvolveX
Questions & Answers
How does Morpheus8 work for skin tightening?
Morpheus8 uses a combination of radiofrequency (RF) energy and microneedling to stimulate collagen production and tighten the skin. The RF energy penetrates deep into the skin layers, heating the tissues and triggering a natural healing response that promotes collagen remodeling and tightening.
What areas can be treated with Morpheus8 for skin tightening?
Morpheus8 can be used to treat various areas of the face and body, including the face, neck, abdomen, arms, thighs, and more. It is a versatile treatment that can address sagging skin, wrinkles, and overall skin laxity.
What is the downtime associated with Morpheus8 skin tightening?
One of the advantages of Morpheus8 is that it has minimal downtime. Patients may experience some redness, swelling, or mild bruising immediately after the treatment, but these effects typically subside within a few days.
How many sessions of Morpheus8 are needed for optimal results?
The number of sessions required depends on various factors, including your specific concerns and desired outcome. Typically, a series of 3 to 4 treatment sessions spaced about 4 to 6 weeks apart is recommended to achieve optimal results. However, this can vary based on individual needs and treatment goals.
When will I see the results of Morpheus8 skin tightening?
Results from Morpheus8 are gradual and progressive. You may start noticing improvements in skin tightness, texture, and overall appearance within a few weeks after the initial treatment session. The full benefits of the treatment are typically seen as collagen remodeling continues in the following months.
How much does it cost?
Please refer to our fee schedule for Morpheus8 treatment pricing and package options.
Complementary Treatments
CoolSculpting
CoolSculpting can be combined with Morpheus8 to enhance the overall results of body contouring and skin tightening. By combining these two treatments, you can achieve a comprehensive body transformation by reducing unwanted fat and improving skin laxity.
Learn More
EvolveX Transform, Tite, and Tone Body Sculpting
The combination of EvolveX and Morpheus8 allows for enhanced fat reduction, muscle toning, and skin tightening in a single treatment session.
Learn More
GET STARTED
"*" indicates required fields