Breast Augmentation with Breast Implants
Breast augmentation is a surgical procedure that involves using breast implants to increase the size and enhance the shape of the breasts.
Breast implants offer many other aesthetic benefits that go beyond the breast size, such as:
More attractive décolletage
Improved breast projection
Improved breast shape
Restoration of lost breast volume caused by pregnancy, breastfeeding, weight loss, or aging
Correction of breast asymmetry
Get Started
Your consultation with
Dr. Barnsley
During your initial breast implant consultation, Dr. Barnsley will discuss your goals and expectations for the procedure, answer your questions and thoroughly explain all available breast augmentation options. When developing your unique treatment plan with you, Dr. Barnsley will evaluate and take into consideration multiple factors, including:
Your body frame and dimensions
Your natural breast size
Skin quality
The amount of natural breast tissue you currently have
Any asymmetry of your breasts
Whether you lead an active, athletic lifestyle
Your overall health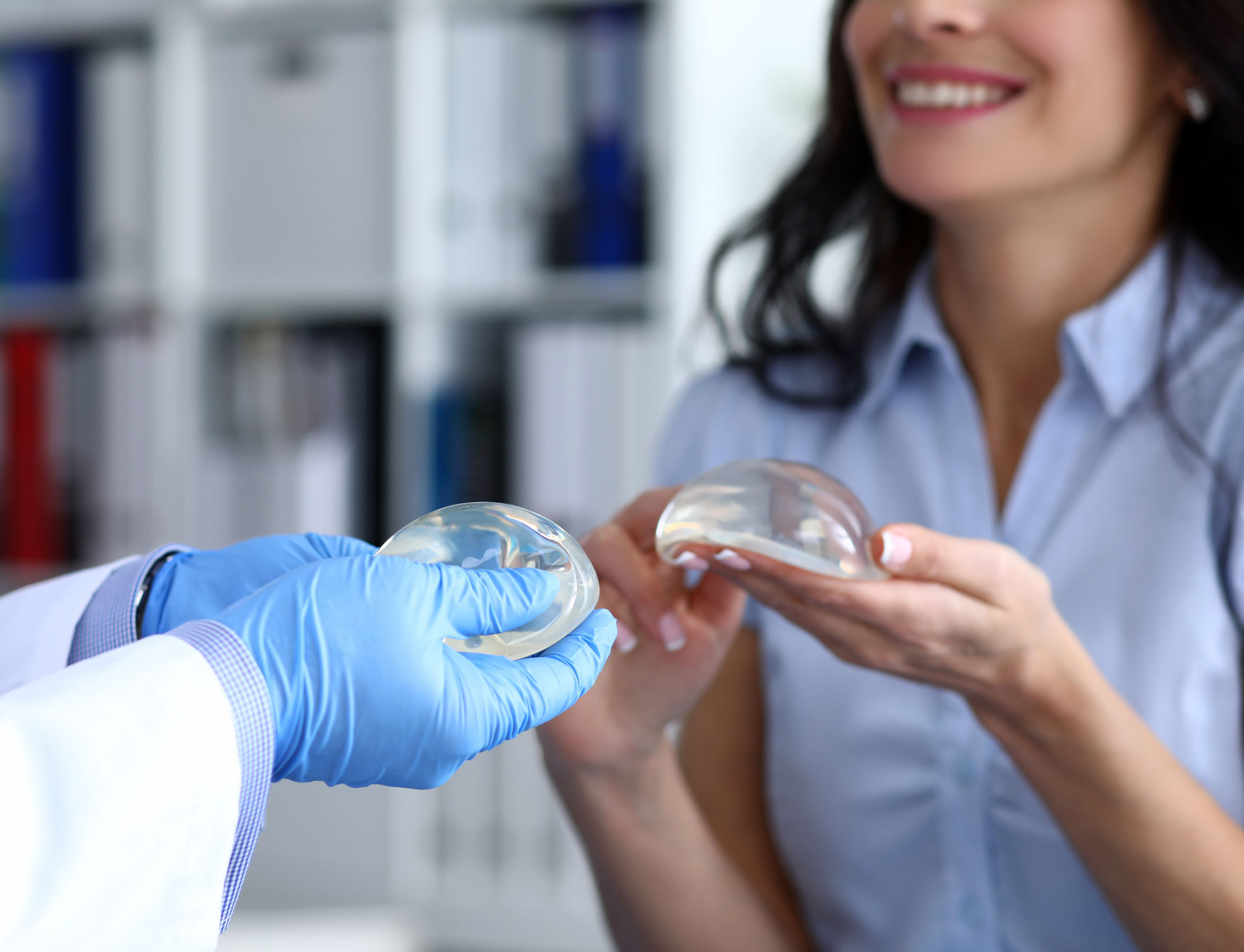 Breast Implant Types
Both saline and silicone breast implants are approved by Health Canada for use in breast augmentation surgery. The best choice for your specific situation is dependent on a number of factors. Dr. Barnsley will explain the advantages of each implant option during your consultation and help you determine which type is right for you.
Saline breast implants
Saline breast implants are made of an outer silicone shell filled with sterile salt water. While saline implants are a great option for many patients, they are more susceptible to visible wrinkling and rippling under the skin. One notable benefit of saline implants is that in the event of a rupture, the implant will perceptibly deflate as the saline leaks harmlessly into your body. This means you can address the rupture immediately and safely.
Silicone breast implants
The vast majority of our patients choose silicone breast implants. This type of breast implant is filled with a silicone gel that is designed to mimic the feel of natural breast tissue. These implants look and feel natural and are less prone to wrinkling, rippling or folding like saline implants. Unlike their saline counterparts, silicone implant ruptures are not immediately noticeable. Because of this,  ultrasound or MRI may be neccessary to ensure your implants have not ruptured.
Questions & Answers
How long is the recovery period after breast implant surgery?
The recovery period after breast implant surgery varies depending on the individual and the extent of the procedure. Typically, you can expect to take one to two weeks off work and avoid strenuous activity and heavy lifting for 4 to 6 weeks. Swelling and discomfort are common during the first few days after surgery, and we may prescribe pain medication to manage these symptoms.
How long do breast implants last?
Breast implant lifespan varies from person to person with most breast implants lasting for 10-20 years. However, some may need to be replaced sooner or may last longer. It is important to have regular follow-up appointments to monitor the condition of the implants and to address any potential issues. After the initial recovery, we recommend that our breast augmentation patients see Dr. Barnsley 10 years after surgery for a follow-up, or if they ever have any questions or concerns in the meantime.
Will I have visible scars after breast implant surgery?
It is normal to have some scarring after breast implant surgery, but the visibility of the scars can vary depending on several factors, such as the placement of the incision and the type of implant used. Dr. Barnsley will discuss the best options for you and give you guidance on how to minimize scarring after surgery. Normally, with proper care and follow-up, most scars will fade significantly over time.
What are the risks and complications associated with breast implants?
Breast augmentation is generally considered a safe procedure. However, like any surgical procedure, it does carry some risks and potential complications. Dr. Barnsley will discuss these risks with you at your consultation to help you make a confident, informed decision. It is also important to follow pre- and post-operative care instructions to ensure proper healing and to minimize the risk of complications.
Can I breastfeed with breast implants?
Yes, it is usually possible to breastfeed with breast implants. However, there is a small chance that the implants may interfere with milk production or delivery. Please be sure to mention any plans for breastfeeding with Dr. Barnsley during your consultation.
Can breast implants increase the risk of breast cancer?
There is no conclusive evidence that breast implants increase the risk of breast cancer. However, it is important for women with breast implants to continue having regular mammograms and breast exams to monitor for any changes in their breast tissue.
What is the cost of breast implant surgery?
The cost of breast implant surgery can vary depending on the type of implant used and additional procedures performed at the same time, such as the breast lift. The best way to get a clear idea of what your breast augmentation surgery will cost is to schedule an in-person consultation with Dr. Barnsley.
Do you offer financing?
We understand that cosmetic treatments can be a significant investment, which is why we offer financing options through several providers. To learn more about how you can afford the treatment you desire over time, please follow this link. Our goal is to make it easier for you to achieve your beauty goals without financial stress.
Related Procedures
Breast Lift
Breast lift is a surgical procedure that lifts and reshapes sagging breasts by removing excess skin and tightening the surrounding tissue. Combining breast augmentation with breast lift can help address both sagging and lack of volume, resulting in a more youthful, lifted, and fuller breast appearance.
Learn More