Breast lift, also known as mastopexy, is a surgical procedure performed to raise and reshape sagging breasts.
It involves removing excess skin and tightening the surrounding tissue to reshape and support the new breast contour. Breast lift can also reposition the areola and nipple to a higher position on the breast. This procedure can restore a youthful breast profile and improve the overall appearance of the breasts.
Get Started
Breast Lift or Breast Augmentation?
If addressing sagging breasts is your primary objective, a breast lift may be an ideal solution. If your goal is to attain larger, fuller breasts, breast augmentation surgery may be a more appropriate choice. Depending on your personal goals, Dr. Barnsley may recommend combining your breast augmentation procedure with a mastopexy in order to enhance the size and shape of your breasts while eliminating sagging.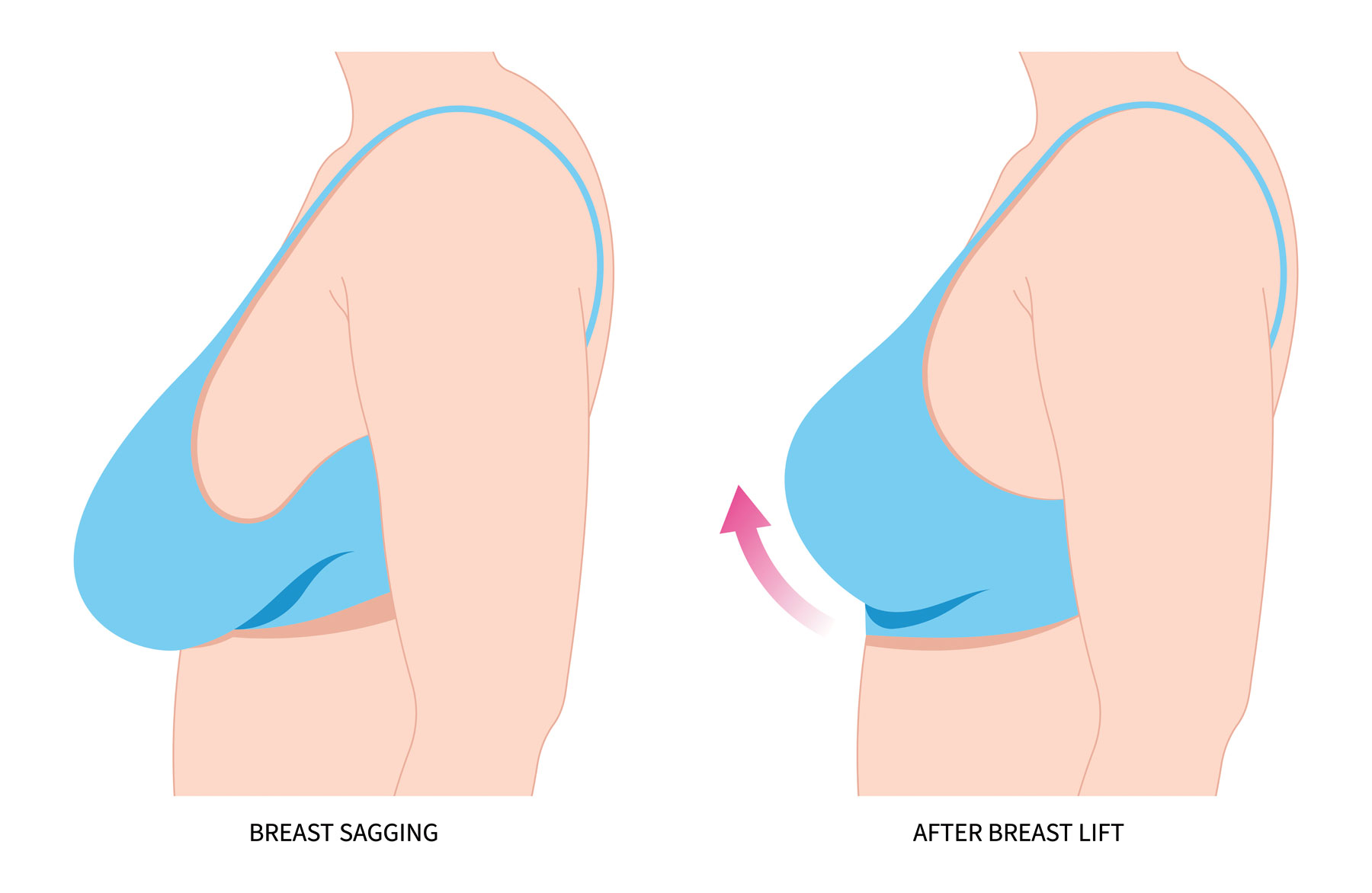 Questions & Answers
What is the recovery time for breast lift surgery?
Recovery time varies for each patient, but generally, it takes about 2-3 weeks to return to normal daily activities and 4-6 weeks to return to exercise.
Will I have visible scars after breast lift surgery?
Yes, there will be some scarring after the surgery: around the areola, a vertical scar coming down to the fold of the breast and a usually horizontal scar along the fold of the breast. Dr. Barnsley uses an anchor incision for breast lifts that circles around the areola. The resulting incision pattern resembles an anchor, hence the name. Anchor incision is often the best option for women with significant sagging or a large amount of excess skin. This technique allows Dr. Barnsley to remove excess skin and reshape the breast tissue to create a more youthful and lifted appearance.
What can I do to minimize scarring after breast lift?
One of the most important things is to follow the post-operative care instructions carefully. This may include wearing compression garments or bras, keeping the incision area clean and dry, protecting skin from sunlight, and avoiding activities that could put strain on the incisions. Additionally, you can take steps to promote healthy healing, such as eating a balanced diet with plenty of protein and staying hydrated. You may also consider using scar treatments and post-procedure skin products available at our clinic that can help speed up healing and fade scars faster.
Can I breastfeed after having a breast lift?
Breastfeeding may be possible after a breast lift, but it depends on the extent of the surgery and the type of incision made. Dr. Barnsley will discuss this with you during the consultation.
Will a breast lift change the size of my breasts?
A breast lift is primarily designed to improve the position and shape of the breasts. However, some patients may experience a slight change in breast size due to the removal of excess skin.
Are there any risks associated with breast lift surgery?
As with any surgical procedure, there are risks associated with breast lift surgery, including bleeding, infection, and scarring. Dr. Barnsley will discuss potential risks with you during the consultation. As with all medical procedures, following pre- and post-operative care instructions will help minimize the risk of complications.
What is the cost of breast lift surgery?
The cost of breast lift surgery starts at $10,000 and can vary depending on the complexity of the procedure and the extent of correction required. Schedule a consultation with Dr. Barnsley to receive an accurate estimate for the cost of a breast lift.
Do you offer financing?
We understand that cosmetic treatments can be a significant investment, which is why we offer financing options through several providers. To learn more about how you can afford the treatment you desire over time, please follow this link. Our goal is to make it easier for you to achieve your beauty goals without financial stress.
Related Procedures
Morpheus8
Prefer a less invasive approach to tightening and lifting breasts? Take a look at Morpheus8 Skin Tightening.
Learn More
Mommy Makeover
Breast Lift is often performed as part of our Mommy Makeover.
Learn More