BBL Forever Young Photofacial
BBL Forever Young Photofacial is an advanced skin treatment that uses BroadBand Light (BBL) technology to address signs of aging, enhance skin tone, and promote a more youthful appearance. It is a non-invasive procedure that delivers targeted light energy to the skin.
Benefits of BBL Forever Young
BBL Forever Young Photofacial offers numerous benefits, including the reduction of age spots, sun damage, redness, small vessels, and fine lines. It also improves skin texture, evens out complexion, and stimulates collagen production for a more youthful and rejuvenated appearance. In fact, a 2013 study showed that BBL treatments can alter gene expression to make skin cells behave younger!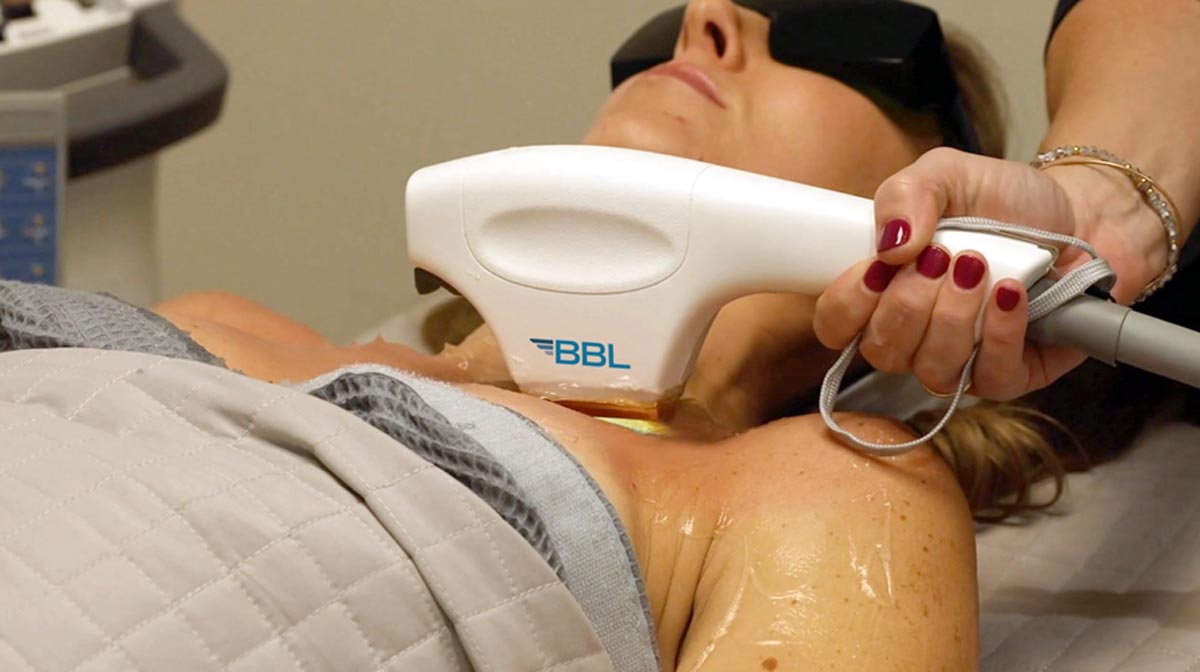 Why stop at the face?
BBL Forever Young Photofacial can be used on various areas of the body:
Face
It effectively treats sun damage, age spots, fine lines, and redness on the face, resulting in a more youthful complexion.
Neck
BBL can address signs of aging and sun damage on the neck, improving skin tone and texture.
Chest
Also known as the décolletage area, BBL can diminish age spots, sunspots, and redness, revealing smoother and more even-toned skin.
Hands
BBL treatments on the hands can reduce the appearance of age spots, sun damage, old burns, minor scars, and signs of aging, restoring a more youthful look.
Arms
BBL can target sun damage, pigmentation issues, and overall skin aging on the arms, helping to rejuvenate and enhance their appearance.
Back
BBL can effectively address sunspots, redness, and other signs of aging or sun damage on the back, promoting smoother and more youthful-looking skin all over.
Before & After BBL Forever Young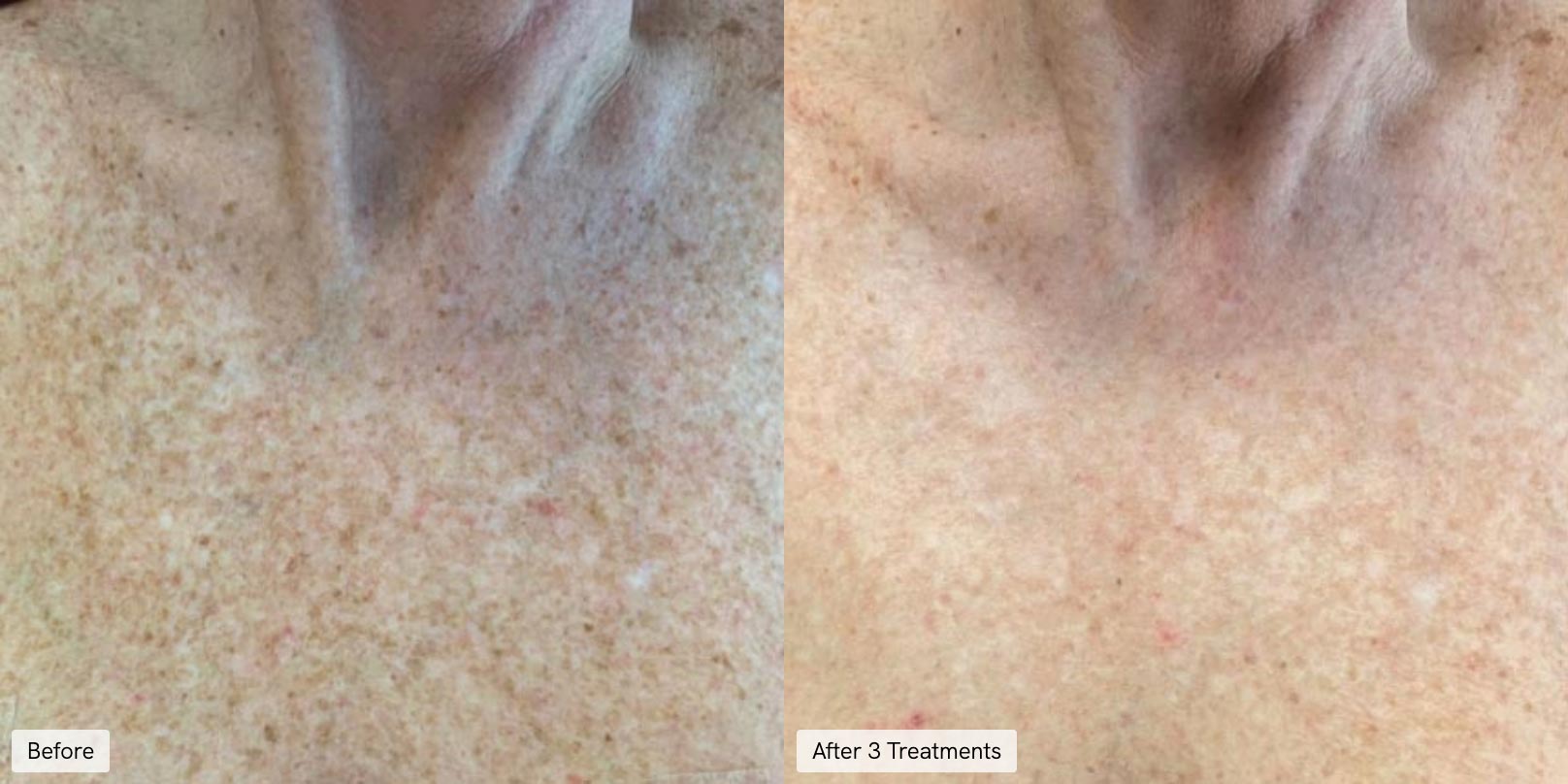 Questions & Answers
How does BBL Forever Young Photofacial work?
BBL energy is applied to the skin, gently heating the upper layers to stimulate the production of new collagen. This process helps reduce the appearance of age spots, sun damage, fine lines, and other common signs of aging.
Is BBL Forever Young Photofacial a painful procedure?
Most patients describe the treatment as comfortable, with only a mild sensation of heat or a slight snapping feeling on the skin.
How many sessions of BBL Forever Young Photofacial are needed?
Depending on your skin condition and goals, two to five treatments per zone (i.e., face is one zone, hands is another zone) are recommended to achieve optimal results.
Are there any side effects or downtime associated with BBL Forever Young Photofacial?
BBL Forever Young Photofacial is a non-invasive treatment with minimal downtime. Some patients may experience mild redness or slight swelling immediately following the procedure, but these effects usually subside within a few hours to a day.
Can BBL Forever Young Photofacial be combined with other treatments?
Yes, BBL photofacial can be combined with other treatments such as chemical peels or hydrafacial to further enhance skin rejuvenation and address specific concerns.
How much does it cost?
Please refer to our fee schedule for details on BBL Forever Young pricing and package options.
Related Treatments
HALO Laser Skin Resurfacing
HALO is a hybrid fractional laser that uses two types of laser energy, ablative and non-ablative, to treat a wide range of skin concerns, including fine lines, wrinkles, sun damage, and uneven skin texture.
Learn More
BelaMD Advanced Hydro Facial
The BelaMD Hydro Facial is a customizable and rejuvenating skincare treatment that combines exfoliation, cleansing, extraction, hydration, and antioxidant infusion for improved skin health and appearance.
Learn More
GET STARTED
"*" indicates required fields