EvolveX Body Contouring, Tone and Sculpt
We're thrilled to announce that Inmode EvolveX, the revolutionary all-in-one body transformation system, is now available at Synergy Medical Aesthetics, making us the first and most experienced EvolveX provider on Vancouver Island.
EvolveX is a cutting-edge non-invasive treatment that works wonders for your body. It uses advanced technologies like radiofrequency and electromagnetic energy to target and improve multiple concerns such as skin tightening, fat reduction, and muscle toning. In simple terms, it's like having a personal trainer, a sculptor, and a magician all in one, helping you achieve a more toned, contoured, and youthful appearance without any surgery or downtime. It's a total game-changer for transforming your body and boosting your confidence.
Get Started
EvolveX Transform, Tite, and Tone in Nanaimo
The EvolveX device delivers radiofrequency energy through multiple applicators to different areas of the body, allowing for customizable treatments that can target specific areas of concern. EvolveX is a great option for those looking for non-surgical solutions for body contouring and sculpting.
This treatment can be used on multiple areas of the body, including the abdomen, hips, thighs, arms, and buttocks. However, it's important to note that EvolveX is not a weight-loss solution and is not suitable for those who are significantly overweight. Ideal candidates for EvolveX are those who struggle with stubborn fat deposits, loose or sagging skin, or lack of muscle definition despite their best efforts with diet and exercise.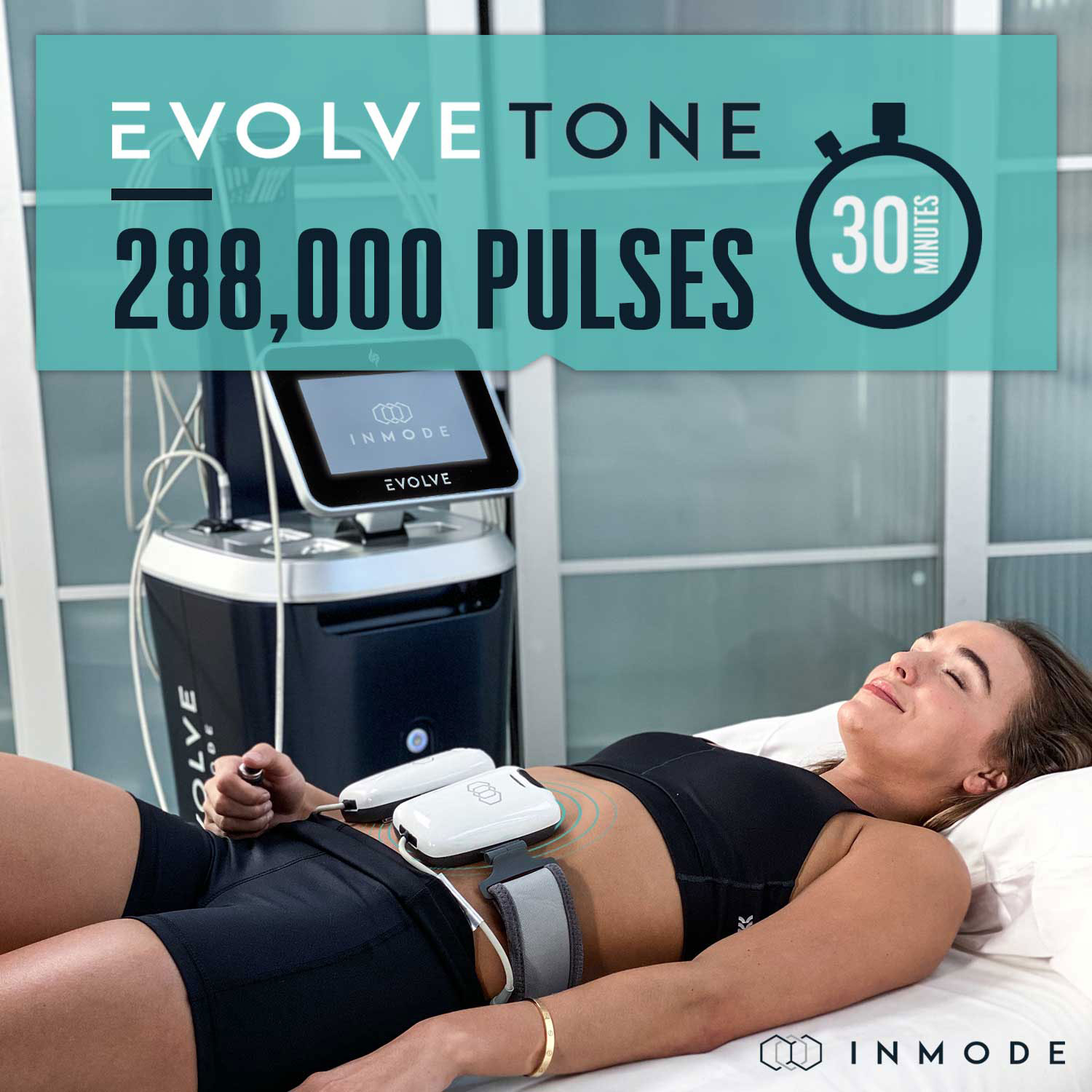 EvolveX Modalities
Transform (RF and EMS) – Reduce fat & cellulite and build muscle simultaneously
EvolveX Transform targets stubborn fat pockets that are resistant to diet and exercise. Using radiofrequency (RF) energy, Transform delivers precise heating to the adipose tissue, resulting in the breakdown and elimination of fat cells. It is an effective non-invasive option for body contouring and achieving a slimmer appearance.
Tite (RF) – Tighten loose or sagging skin
EvolveX Tite is designed to tighten and firm the skin. Using radiofrequency (RF) energy, Tite stimulates collagen production, leading to skin tightening and improved elasticity. It can be used to address concerns such as loose or sagging skin, resulting in a smoother and more youthful appearance.
Tone (EMS) – Build and sculpt muscle
EvolveX Tone focuses on muscle toning and strengthening. By utilizing electrical muscle stimulation (EMS), Tone induces involuntary muscle contractions, similar to a workout. This modality helps enhance muscle definition, improve muscle tone, and contribute to a more sculpted physique.

Before & After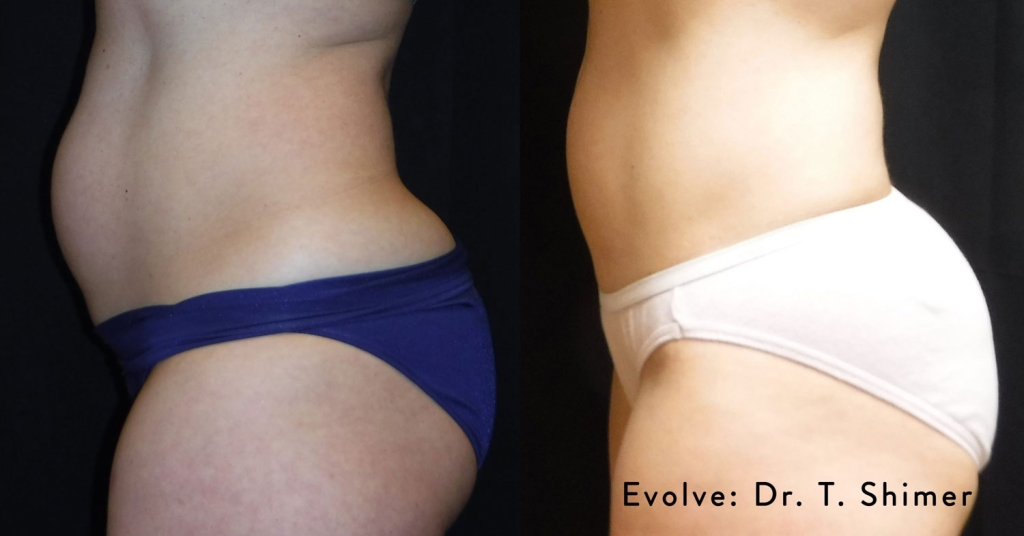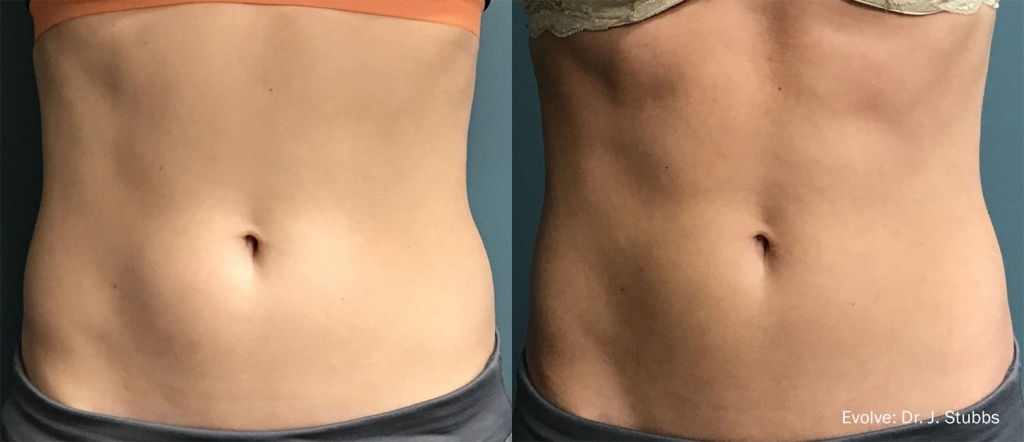 At Synergy, we are committed to providing our patients with the latest, most effective non-surgical aesthetic treatments available. Our team of experienced medical professionals has extensive training in using the EvolveX device, ensuring that our patients receive safe, effective treatments tailored to their individual needs and goals.
EvolveX Transform, Tite, Tone
EvolveX Tone
Questions & Answers
How does EvolveX work?
EvolveX utilizes advanced technologies like radiofrequency (RF) energy and electromagnetic pulses to target specific areas. RF energy heats the underlying tissues, stimulating collagen production and tightening the skin. Electromagnetic pulses stimulate muscle contractions for enhanced toning and definition.
How long is a treatment session?
The EvolveX treatment typically takes 30-60 minutes, depending on the areas being treated.
How many sessions of EvolveX are required?
Typically, a series of sessions spaced a few weeks apart is recommended for optimal results. The exact number of treatment sessions will depend on your personal goals.
Does EvolveX hurt?
During the treatment, you may experience a warming sensation or mild discomfort, but it is generally well-tolerated.
Is there any downtime after an EvolveX treatment?
EvolveX is a non-invasive procedure that requires no downtime. You can resume your daily activities immediately after the treatment.
When will I see results from EvolveX?
Results are typically seen gradually over several weeks to months, with optimal results achieved after a series of treatments.
Are the results of EvolveX permanent?
While EvolveX can provide long-lasting results, it is important to maintain a healthy lifestyle to preserve your transformation. Regular exercise, a balanced diet, and proper skincare can contribute to maintaining the results achieved.
What should I get: CoolSculpting, Morpheus8, or EvolveX?
Determining the most suitable treatment for your specific needs requires a comprehensive evaluation of your goals, medical history, and physical characteristics. Each treatment, whether it's CoolSculpting, Morpheus8, or EvolveX, offers unique benefits and targets different concerns. Contact us to book a consultation, and our expert aesthetics team will guide you in making an informed decision tailored to your needs.
How much does it cost?
Please refer to our fee schedule for EvolveX pricing and package details.
Complementary Treatments
CoolSculpting
CoolSculpting is often the initial treatment we recommend to address significant and stubborn fat pockets. It uses controlled cooling technology to freeze and eliminate fat cells, helping to contour the body and reduce localized fat.
Learn More
Morpheus8
Morpheus8 addresses skin laxity and improves texture. This advanced fractional radiofrequency (RF) microneedling treatment stimulates collagen production, tightens the skin, and improves overall skin quality. Morpheus8 is frequently combined with EvolveX for more transformative results.
Learn More
GET STARTED
"*" indicates required fields