You may feel like it's impossible to get rid of the fat under your chin. It wasn't long ago that you would have been correct, but today's cosmetic technologies and the physicians who use them make it quite possible to restore a nicely contoured chin, neck and jaw.
When you visit us at our Nanaimo practice, we will recommend those treatments or procedures that are a good match for your goals and expectations. To arrange your consultation, please call the friendly Synergy Medical Aesthetics team at 250-591-1566.
Lots of people experience "sub-mental fullness," otherwise known as a double chin. Some people are born with it, others develop it later in life. Fullness under your chin may be caused by:
Genetics
Weight gain
Weight loss
Stubborn fat cells
Dr. Philip Barnsley is a board-certified plastic surgeon and can offer both surgical and non-surgical options to Vancouver Island residents seeking to enhance, sculpt or improve their face, skin and physique.
CoolSculpting to Reduce a Double Chin
What if you could freeze away the excess fat causing fullness under your skin? With CoolSculpting, you can do just that! This device freezes selected fat cells below the skin's surface, which is unaffected. The freezing temperatures essentially destroy the fat cells, allowing your body to then process them away.
Non-surgical and non-invasive, the CoolSculpting device gently pulls your skin between two cooling panels. You won't notice a difference right away because your body takes about three weeks to remove the destroyed fat cells. At that point, your chin will look defined and contoured.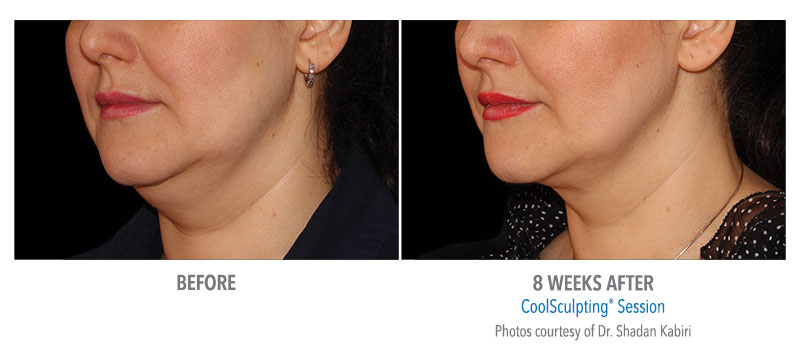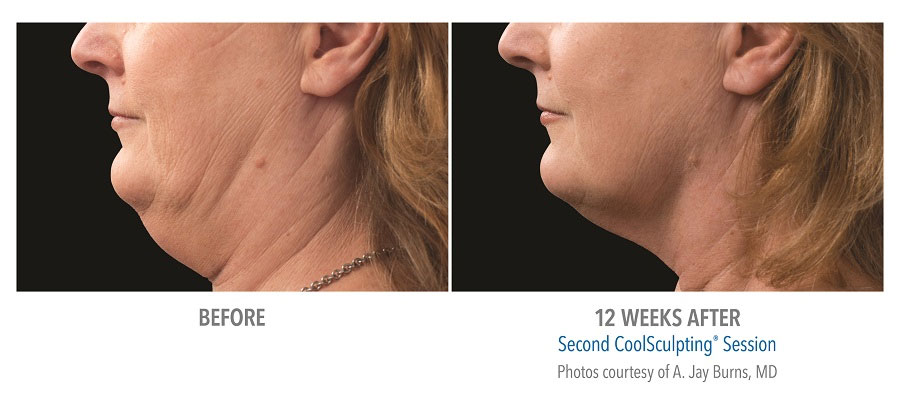 Liposuction of the Chin Area
Liposuction is a surgical means of removing fat. Many people do not realize liposuction can be used in an area as small and delicate as below the chin. It is, in fact, very effective for this area. Using a special surgical device, Dr. Barnsley breaks apart and suctions away the excess chin fat. The cells removed are removed for good, although it is still possible to gain new weight and for existing fat cells to enlarge. Most of our patients feel even more motivated to maintain a stable weight after seeing their results.
Talk to Our Experienced Team
Ready to say goodbye to your double chin? To discuss your options with our experienced physicians, please call Synergy Medical Aesthetics in Nanaimo at 250-591-1566.