At Synergy Medical Aesthetics, one of our most asked about services is CoolSculpting for targeted fat reduction. Approved in 2008, Dr. Dieter Manstein and Dr. R. Rox Anderson developed this treatment based on a phenomenon that was discovered in the 1970s called Popsicle Panniculitis — a condition where the fatty tissue in a child's mouth crystallizes when exposed to cold temperatures, such as with a popsicle or ice cube.
This observation led to their hypothesis that subjecting fat tissue to extreme cold would destroy the cells. Thus, the concept of CoolSculpting was born! This non-invasive procedure terminally injures the fat cells, which leads to their gradual reabsorption and elimination from the body.
With so many inquiries about the procedure, Synergy's CoolSculpting Team Jillian Daniels and Brianna McGavin have answered some of the commonly asked questions for you!
Q:  How long does a treatment session usually last?
A:  A cycle of treatment lasts 30 minutes, but most patients choose to treat a few areas in one visit.  So, a session can last anywhere from one to four hours, depending on the treatment plan for that particular patient. Each patient will have a customized plan to achieve their desired results.
Q:  How many areas can I have treated in one session?
A: We can usually treat one to four areas per session.
Q:  What does it feel like? Is it uncomfortable?
A:  When the session begins, sometimes the patient will feel sensations of tugging, mild pinching, cold, tingling, and stinging. These feelings will subside quickly as the area becomes numb.  Most of our patients will nap or catch up on Netflix on our iPad!
Q:  Are results guaranteed? How long do I have to wait to see results?
A:  While results are never guaranteed, studies show that patients are satisfied with the results and recommend the procedure to others. On average, results are seen within one to three months, with the full effect visible around the three- to four-month mark. You can have your next treatment after three months.  Most areas have best results with two or more repeat treatments.
Q:  What is the most popular area to have treated?
A:  The most popular area is the abdomen. Other popular areas include inner thighs, love handles, arms, chin and back. 
Q:  Can men get CoolSculpting?
A:  Yes! This treatment is actually very popular with men!
Q:  How much does it cost? Should I do CoolSculpting or Surgery?
A:  Each patient has a customized treatment plan, so the cost varies. The choice between this procedure and surgery will depend on the patient's desired results, as well as their individual choice. We offer a free consultation, so will be happy to go over all your options with you.
Q: How qualified are your technicians?
A:  At Synergy, our CoolSculpting Technicians have completed specialized in-person training at the Allergen headquarters in California. The training program is affectionately called "CoolSculpting University." Our newest technician, Brianna, has her Master's level training, which focuses on those tough treatment areas.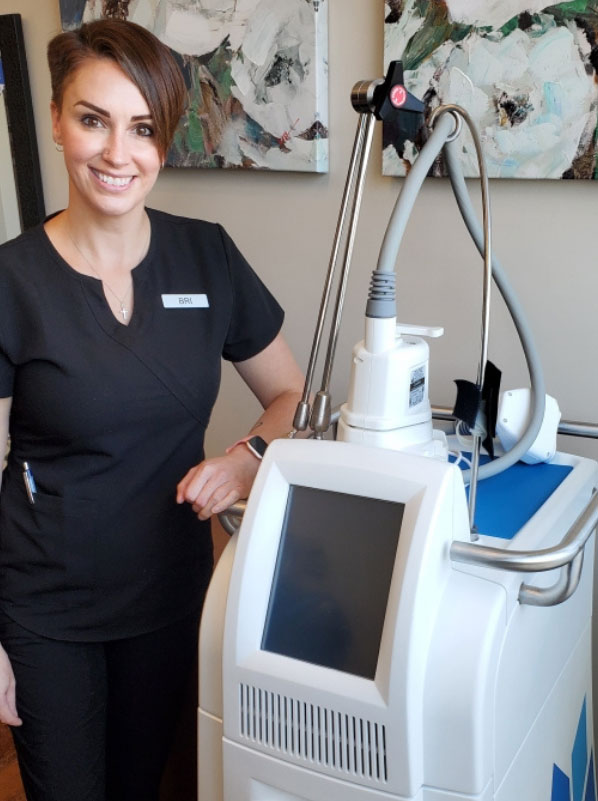 Jillian and Brianna are always updating their skills with online training webinars. In this way, Synergy can offer the latest techniques for targeted fat reduction. According to Brianna, helping patients look and feel their best and seeing their results is what makes this job so satisfying.
Q:  Is there anything else I should know?
A:  Yes! CoolSculpting is part of the Brilliant Distinctions loyalty program through Allergan. You can sign up to earn reward points that can be used to save on future treatments of BOTOX® and JUVEDERM®.  Sign up here to start collecting!
You can find more information about CoolSculpting here or contact us anytime with questions or to book your free consultation!